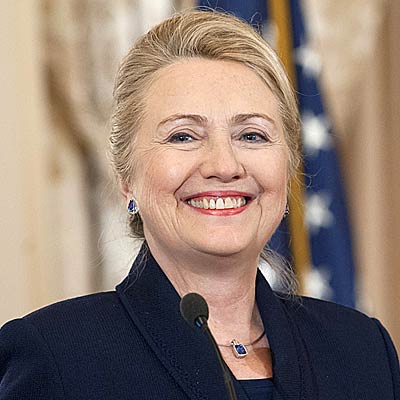 This (August 3, 2015) is
report no. VII
, a continuation of the

Hillary Clinton

vs.

GOP

polling series that I started on March 17, 2013:
Statistikhengst's ELECTORAL POLITICS - 2013 and beyond: Clinton vs. GOP field, 2016 GE, Part I
Here are the other analyses in the series, to-date: Part II , Part III, Part IV, Part V and Part VI.
This analysis is NOT here to proclaim that Hillary is going to win, no matter what, but it IS continuing a baseline that I started to build 2.5 years ago.
That being said, it shows amazing consistency in polling for the former First Lady of the USA, former Senator from the great state of New York and former Secretary of State of the USA.
This report simply shows the numbers, ALL of the numbers. Until EOY 2015, I will not be calculating any polling averages, unless of course an avalanche of polling starts in key states.
Some Conservatives express displeasure when they see such a report, but they are being short-sighted: a baseline is only valuable when you see ALL of it, meaning, that should Hillary's fortunes change, we will be able to record that as well. Again, these are just the numbers, as they are right now.
Back in March of 2013, 14 states had been polled. As of today, 38 states have been polled for presidential match-ups Here is how this looks on a map:
In this case, the color blue has no political significance. It simply denotes the states that have been polled and/or re-polled from 2013 until now. That's 38 states, worth 466 EV.
Therefore, the 13 "states" that have not been polled at all for 2016 are (from west to east): Hawaii, Utah, North Dakota, South Dakota, Nebraska, Oklahoma, Indiana, Tennessee, Alabama, D.C., Delaware, Vermont and Rhode Island.
As of today, Sunday 02 August 2015, state and national polls put together, there have been:
363 polls total, making for 1,537 presidential matchups. That's almost twice as many matchups as when I reported in January of this year. It's been a busy 1/2 of a year and surely it will get even busier.
Hillary Clinton has won

1240

of those 1,537 matchups (

80.68%

)
The GOP field of various candidates have won 234 of those matchups (16.35%) and t
here have been
43
mathematical ties (
2.80%
).
I can easily report with 100% confidence that Hillary Clinton (D) is the most polled presidential candidate in the year before an election in our Union's history. No candidate has ever before been polled in this many polls or with this many matchups more than one year before a General Election. President Obama was polled circa 1,900 times against Mitt Romney and surely in 2009-2011, about another 400 polls were matchups against other GOP figures. So, all said and done, by Election Night 2016, we will surely have seen about 3,000 matchups in this cycle.
So, in spite of the fact that the number of polls almost doubled in 6 months time, the actual statistic of wins for Hillary Clinton has remained very stable. I would like to show this with this screenshot of three charts, all self-explanatory:
The column on the left of each table is the report date. One table is only for the state polls/matchups, the second table is for the national polls/matchups and the third table is for all polls combined. Look at how very stabile those numbers have remained over almost two years. In state polling, since August 6th, 2013, 2 years ago, no matter what states were being polling, Hillary won between 73.5 - 75.6% of all state matchups, plainly put, 3/4ths of them. In national polling she has won between 97-98% of all national polls, and with margins mostly considerably larger than Obama's margins from 2011-2012. Putting all polls together, since August 6th, 2013 (two years ago), Hillary has won between 77-81% of all matchups in total, plainly put, 4/5ths of all matchups.
Here is an exact table, by state, with the number of polls, matchups, and who won:
| | | | | | |
| --- | --- | --- | --- | --- | --- |
| State | No. of polls | No. of Matchups | Clinton wins | GOP wins | Ties |
| National | 89 | 368 | 358 | 7 | 3 |
| AK | 6 | 30 | 7 | 23 | 0 |
| AR | 5 | 17 | 5 | 12 | 0 |
| AZ | 2 | 14 | 5 | 7 | 2 |
| CA | 3 | 6 | 6 | 0 | 0 |
| CO | 13 | 52 | 30 | 19 | 3 |
| CT | 2 | 12 | 12 | 0 | 0 |
| FL | 24 | 98 | 93 | 5 | 0 |
| GA | 3 | 15 | 12 | 2 | 1 |
| ID | 1 | 5 | 0 | 5 | 0 |
| IA | 25 | 121 | 101 | 12 | 8 |
| IL | 1 | 10 | 10 | 0 | 0 |
| KS | 7 | 25 | 1 | 24 | 0 |
| KY | 8 | 25 | 7 | 16 | 2 |
| LA | 7 | 27 | 10 | 14 | 3 |
| ME | 1 | 4 | 4 | 0 | 0 |
| MD | 1 | 3 | 3 | 0 | 0 |
| MA | 1 | 3 | 3 | 0 | 0 |
| MI | 11 | 44 | 44 | 0 | 0 |
| MN | 2 | 9 | 9 | 0 | 0 |
| MS | 2 | 9 | 0 | 8 | 1 |
| MO | 1 | 3 | 0 | 3 | 0 |
| MT | 7 | 25 | 0 | 24 | 1 |
| NH | 17 | 66 | 55 | 8 | 3 |
| NJ | 17 | 42 | 41 | 1 | 0 |
| NV | 2 | 9 | 8 | 1 | 0 |
| NM | 2 | 8 | 8 | 0 | 0 |
| NY | 10 | 23 | 23 | 0 | 0 |
| NC | 25 | 109 | 82 | 16 | 11 |
| OH | 12 | 71 | 66 | 3 | 2 |
| OR | 1 | 5 | 5 | 0 | 0 |
| PA | 13 | 71 | 67 | 4 | 0 |
| SC | 2 | 11 | 0 | 10 | 1 |
| TX | 4 | 18 | 5 | 13 | 0 |
| VA | 21 | 83 | 77 | 5 | 1 |
| WA | 2 | 16 | 16 | 0 | 0 |
| WV | 1 | 5 | 0 | 5 | 0 |
| WI | 8 | 40 | 37 | 2 | 1 |
| WY | 1 | 5 | 0 | 5 | 0 |
| Specialty: Latino / Jewish | 3 | 30 | 30 | 0 | 0 |
| TOTAL state polls | 274 | 1169 | 882 | 247 | 40 |
| TOTAL state and national | 363 | 1537 | 1240 | 254 | 43 |
| % state polls only | | | 75,45% | 21,13% | 3,42% |
| % national polls only | | | 97,28% | 1,90% | 0,82% |
| % state and nat'l together | | | 80,68% | 16,53% | 2,80% |
All of the polling values are here in this large EXCEL DOCUMENT. I encourage all readers to go to this link and use the tabs at the bottom to see their state first and peruse as much as they wish.
Update: currently, GoogleDocs is not wanting to open an .xls file this large, it will let you view it through a viewer, but that is not really satisfactory. You can download the document here.
Here is a screenshot of an example of the layout of this table, using the state of New Hampshire as an example:
You will notice that the polls are numbered in reverse chronological order, with the latest poll at the top. All polls are linked, so you can click on the link for every single poll and see the results for yourself. The release date of the poll (European dating system) is then following by the survey size and MoE (Margin of Error). Then, if there are any FAV/UNFAV numbers or DEM nomination figures, they come next. I am not averaging polls yet.
The Presidential matchups follow in this order:
(at this point the screenshot shows no more, you would have to scoll out to the right at the excel table to see the rest)
Clinton

vs.

Trump
And then, any other GOP candidates that have been polled in that particular state. The order, which used to start with Chris Christie, followed by Rand Paul, was changed since GOP primary polling is clearly showing a top-tier of those three candidates, although Donald Trump has barely been polled outside of national polling.
Speaking of how often candidates have been polled, here is an exact breakdown:
| | | |
| --- | --- | --- |
| Candidate (Aug 3, 2015) | Matchups vs. Hillary | comments |
| Bush (Jeb) | 263 | |
| Paul | 253 | |
| Christie | 241 | |
| Cruz | 146 | |
| Rubio | 137 | |
| Huckabee | 124 | |
| Walker | 105 | |
| Ryan | 68 | Not running |
| Carson | 32 | |
| Perry | 20 | |
| Trump | 17 | |
| Romney | 16 | Not running |
| Kasich | 14 | |
| Fiorina | 13 | |
| Santorum | 11 | |
| Palin | 9 | Not running |
| Jindal | 9 | |
| All others together | 59 | |
And in the appendix to this analysis, an exact breakdown, by state as well. Until this analysis, Chris Christie had been the most polled "prospective" GOP candidate against Hillary Clinton. Now that all 17 Republicans and 5 Democrats have officially declared their candidacies, Jeb Bush is now the most polled of all of the candidates against her. Under "All others together" are 16 names of lesser known potential candidates, like Lindsay Graham (polled exactly twice) and also 4 generic polls (0.26% of all polls). I HATE generic matchups at the presidential level, but in order to be accurate and not have forgotten anything, they are also in the mix.
Legend for the EXCEL TABLE:
The numbers are COLOR CODED (

blue = DEM

/

red = GOP

) and bolded = the higher value. Wherever you see values in italic, that means a mathematical tie.
The following

42 pollsters

have polled Hillary vs. GOP matchups thus far:
Quinnipiac,
Rasmussen,
NBC (Princeton),
PPP (D), Monmouth
Marist / McClatchy,
Gallup,
Bloomberg,
YouGov,
CNN / ORC
ABC / WAPO,
The Field Poll,
Gravis (R),
WMUR / UNH
Harper (R),
Purple Strategies,
Marquette University Poll
Latino Decisions,
The Arkansas Poll,
Impact / Talk Business
The Polling Company,
Conservative Intel,
Magellan,
MRG (R)
Dartmouth,
Rutgers/Eagleton,
Siena,
Roanoke,
Loras College
EPIC/MRA,
Farleigh-Dickinson,
Civitas (R),
St. Leo University
Fox News,
Emerson College,
J-Street,
Univision
Christopher Newport,
IPSOS / Reuters,
Suffolk / USA Today
Glengariff, Remington Research Group.
That's 9 more pollsters than reported in January of this year. So, the polling gene-pool is starting to develop some.
Take a look at the map at the top of the analysis. Now, here are the states that have been polled at least once since January 19th of this year:
In this case, the color red has no political significance. It simply denotes the states that have been polled and/or re-polled in this year. That's 24 states, worth 341 EV. Not surprisingly, the big seven are there: Florida, Ohio, Pennsylvania, North Carolina, Virginia, Iowa and Colorado. In fact, they have been polled a lot this year.
So, let's consider a state like

Idaho

or Maine, both of which have not been polled in quite a while. Since they are both very reliable states for their respective party, if states known for lesser margins are showing statistics similar to what we are seeing going into an election year, then we can safely assume that state is "safe". For instance, the last

Montana

poll showed the GOP ahead by between

+10

and

+16

. If that is the case in Montana, then in

North Dakota

, a state known for stronger GOP margins, even without a single poll to look at, we can assume for now that North Dakota is also safe GOP. Same thing on the DEM side: the latest

California

poll puts Hillary at between

+21

and

+24

(Obama won the state by

+23

in 2012), and although Hawaii has not been polled, it is more than a safe bet that Hawaii is as blue as ever, at least until contraindicative polling comes in, as Hawaii was a

+35

or more state in both 2012 and 2008.
Here is a map of the states that went for the Democratic candidate and the Republican candidate all 6 times in a row, from 1992 through 2012, known as the "sixers":
Those 19 states plus DC account for 242 electoral votes and apart from one recent slightly-weak poll in Pennslyvania, there is no sign of weakness in what is slowly being called "the Blue Wall".
On the Republican side, those 13 states account for 102 EV, but a number of states that didn't go reliably for the GOP all six times in the last 24 years are proving to be very reliable states, for instance, West Virginia (which Romney won by 26 points), Tennessee and Montana.
But within that field of dark grey are some traditionally strong GOP states that are currently showing weakness.
In

South Carolina

, now polled twice in February, by two different pollsters, the GOP was ahead of Hillary by between

+2

and

+8

. John McCain won SC

by 9 points

, Mitt Romney won it

by 11 points

. So, a 2 point lead would be disturbing for the GOP, were it to hold. I doubt it will hold and am pretty confident that the GOP will hold SC, but the leaner margins are signs of a national trend, according to the principle of "a rising tide lifts all boats".
In

Kentucky

, which was once a battleground state a long, long time ago, a state that Mitt Romney won

by almost 23 points

, a state where Mitch McConnell went from a dogfight to an easy win in the 2014 election, the latest poll shows the GOP ahead of Hillary by between

5-10 points

, but she beats Donald Trump

by 3 points

. Kentucky was a state that very narrowly went for Bill Clinton in both 1992 and 1996, so the Democratic machinery in the Bluegrass State is going to do it's best to reinvigorate Democrats of the past who have been voting Republican in national elections.
In

Arkansas

, an Impact (R) poll from June, 2015 showed favorite son Mike Huckabee up on Hillary by

+14

points in her former home state. And Mike Huckabee was also up in double digits over Hillary in PPP (D) polls from mid-late 2014. But all other GOP candidates had far leaner margins, from +2 to +5, and Hillary won 2 matchups against Christie. Similary to West Virginia and Kentucky, Arkansas went for Romney by a crushing

+24 points

.
None of this is a strong indication that those state will leave the GOP in 2016, but evidence is mounting more and more that the margins are depressed on the GOP side, which usually points to the national winner on the other side.
In the last analysis, I mentioned that I would love to see a poll of

Missouri

. Well, one finally came in, from a strongly Conservative pollster (Remington Research Group), showing 3 GOP candidates beating Hillary by between

+5-10 points

. Romney won MO by

+10

points in 2012, so we may be seeing more evidence that that state is moving farther and farther away from bellwether status.
That's most of the news from the Mason-Dixon line, from states that have been strongly GOP until now. But the two most critical states that straddle that line, Virginia and North Carolina, deliver us the most important information.
One of the most polled states in the Union is

North Carolina

: there have now been 25 polls, with 109 matchups, and Hillary has won 82 of them. North Carolina was a state that George W. Bush (43) won very easily, with

+13

and

+12.5

in 2000 and 2004, respectively. In Obama's first election, he just barely pulled the Tarheel State over the line, with

+0.29

, and Romney won it back, by

+2.04

. So, considering how competitive North Carolina (with it's 15 electors) has become, both parties are measuring it to see how the national landscape would be shaping up. Democrat strategists will tell you that were next year to be a big Republican year, they should be putting NC away already and slamming the door on the Democratic candidate. Republican strategists will tell you that the influx of Democrats in the Chapel Hill area, a big University area, has changed the demographics of the state. Both are probably somewhat right. The hardest piece of evidence that the GOP is going to have a heavy-lift here was a SUSA poll, from the end of April, which used a large LIKELY VOTER SCREEN and showed Hillary ahead of the GOP by between

+2 and +9

, the +9 being against Scott Walker. Surely, a Democrat who would be winning her by +9 is probably winning nationally by +15.
The other massively polled state is

Virginia

, where Hillary is still ahead. The Old Dominion has now seen 21 polls with 93 matchups, of which Hillary has won 77. This last week saw the duel between two pollsters: PPP (D) and Quinnipiac. PPP (D) showed Hillary comfortably ahead in VA against all 10 comers. Qpiac showed her losing to 2 of 3 GOPer and statistically tied with the other. On can argue back and forth about which poll is right. PPP (D) nailed it in Virginia in 2012, but Qpiac uses a more restrictive screen. That being said, Virginia has gone from being a total romp for Hillary to a most battleground type of status.
Together, Virginia and North Carolina are worth 28 EV, essentially, the same electoral firepower as Florida.
I want to move away from the Mason-Dixon line for a minute and look at

Colorado

, the one state that Obama won twice where Hillary is really struggling. And this is not the first time I've mentioned this. In fact, in the last four analyses, I kept harping on this point. There have now been 13 polls of Colorado, with 52 matchups, and Hillary has won 30 of them. Only, the GOP is starting to achieve larger margins on her in the latest of polling. I wrote - four essays ago - that even were a Hillary landslide to form, there could still be a good chance that the GOP takes Colorado back. But I'm not willing to bet on that either, considering how unreliable polling was in 2008, 2010 and 2012, in all three cycles having grossly underestimated the Latino vote. Wait and see.
In neigboring

Arizona

, it's all tied up. The latest PPP (D) poll has Clinton in an absolute tie with both Bush and Carson, 1-3 points behind Walker, Cruz, Rubio and Huckabee, 5 points behind Paul and 7 behind Christie. She beats Rick Perry by 3 points. Again, the numbers are all too low and there are too many undecideds, but excepting 1996, Arizona has been a reliable GOP state. It shouldn't be this close at any time at all.
In

Iowa

, in the middle of the heartland, is also looks very, very "battlegroundy" and has been this way for about a year now. The same Quinnipiac poll that showed Hillary losing to the GOP in Colorado and Virginia last week also showed her losing to the GOP in Iowa, but the numbers are so very low and there way too many undecideds. Wait and see. On balance, Iowa is shaping up to be a battleground state.
In

Pennyslvania

, with 13 polls and 71 matchups, Hillary has won 67 of them. That being said, Rand Paul just narrowly beat Hillary in the last Quinnipiac by 1 point, just as in the Qpiac before. Many pundits like to call the Keystone State "Fool's Gold" for the GOP, but I'm not so sure. With the right candidate, a Republican could win this state. However, in a cycle where the DEM is considerably ahead in national polling (as Hillary is), then the chances are very strong that when all is said and done, she will retain PA for the Democrats, and with a quite comfortable margin. BTW, in the same Qpiac poll, Hillary beats Ohio Gov. John Kasich by

+6

.
Speaking of Kasich, polling in

Ohio

still shows Hillary ahead. but the race has tightened up, as expected. There have been 12 polls and 71 matchups (just like Pennsylvania) and Hillary has won 66 of them. That being said, in the most recent polls, where the margins are now thin, the numbers for both sides are low, like 41/42, with way too many undecideds.. Here is a state where a Republican like John Kasich, as a "favorite son", could beat Hillary. Unfortunately, the most recent Florida polling shows him losing to Hillary in the Sunshine State by a landslide 13 points. So, Ohio is a state that Bush can't seem to win, at least for now, but Kasich can, while at the same time, Kasich can't win Pennsylvania. And Florida is a state where Kasich is hopelessly behind, but Bush could win Florida against Hillary, maybe. It's like a game of whack-a-mole.
Speaking of

Florida

, there have now been 24 polls, 98 matchups and Hillary has won 93 of them. That is a tremendous statistic for a Democrat in a right-leaning state like Florida! In a sure sign that the demographics of this state continue to change, Hillary is, I am quite sure, doing better her than her team hoped for. In the latest Quinnipiac (where she beats Kasich by

+13

), she is ahead of Bush by

+4,

over Walker by

+10

, over Paul by

+15

. These are crushing margins in a state that has been won by 5 points or far under over the last 24 years.
So, that's the low-down at the state level:
-The Blue Wall is holding easily (242 EV)
-New Mexico already looks like it should be part of the Blue Wall as well (247 EV total)
Hillary is ahead in Nevada, and quite comfortably (253 EV)
So, it really does look as if the Democratic Party is starting in a stronger position this time than even during President Obama's re-election of 2012.
-there is still weakness in certain Republican states, indicating that some unexpected battlegrounds could open up.
In 2012, we saw a huge disconnect between national-polling and that aggregates coming from the state polling.
This time, we may be seeing something even more interesting. I call it "The Trumpian Divide".
As we all know, since announcing his candidacy from Trump Towers in NYC in Mid-July, Donald Trump has soared to the top of GOP nomination polling and is currently the no. 1 going into the first GOP debate, set for this coming Thursday, August 6th, in Cleveland.
But in national polling against Hillary, against Sanders and even in a hypothetical against Biden, he gets crushed by between +12 and +22. These are margins we have not seen a Democrat enjoy since 1964, almost 52 years ago.
To be more exact, to-date, Donald Trump has only been polled against Hillary 17 times: 9 times nationally, 4 times in a hypothetical Clinton (D) / Bush (R) / Trump (I) scenario, and one time a piece in Illinois, Kentucky, Michigan, Nevada and North Carolina. This makes Trump a statistical anomaly on in the sense that no one really thought he was going to run and so, no one polled him until after he announced. Now he's in the top-slot among Republicans, at least for now, so I expect lots and lots of Trump-vs-Hillary polling to ensue in the next monthns.
One thing can be said about the national polling this time around: it has been unbelievably consistent: 89 national polls, 368 matchups, of which Hillary has won 358, and most of them with margins way outside the margin of error. That being said, Quinnipiac, which has been bullish on small margins for Hillary, put out a poll two days ago showing her losing to Bush (Jeb!) and winning over Walker by just 1 point. On that same day, Marist showed her up on Bush by

+6

points and Walker by

+7

, so in the aggregate, no matter how you slice it, Hillary is winning against the entire by between

+5

and

+15

across the board, nationally, which would then explain why many of the margins in traditionally Republican states are very, very lean. Go look at the national polling for yourself and be amazed at the sea of bolded blue, signifying a Democratic win. Also important to note is that Carly Fiorina, also a woman, is gaining no traction in this race. In fact, in the female vote, she often does considerably worse against Hillary than a number of her male counterparts within the GOP field.
There are three more factors in this:
one is the Latino vote. In the last month, two Latino polling organizations put out results showing Hillary winning in the Latino vote by between

+37

and

+47

, right in line or better than Obama's take of the Latino Vote in 2012. Interesting in the poll is that Hillary beats both Cruz and Rubio (both Latinos) by

+47

, so no,

it's not ethnicity; it's policies that matter.
Another is the Jewish vote, a group that usually supports Democrats. J-Street put out a poll showing Hillary besting Bush by

+38

points in the Jewish vote. Now, J-Street is a left-leaning organization, so I would like to see a poll from a Right-leaning Jewish organization as well.
And the third is, you guessed it, the Womens' Vote. With the likelyhood that Hillary becoming the DEM nominee in 2016 being at about 100%, we are also seeing resonance for her in the womens' vote, across party lines. Starting in the next analysis, I will be breaking down the polling in the 7 key states also according to the womens' vote. Just as a benchmark: Pres. Obama won the women's vote by

+11

in 2012 and by

+13

in 2008. Hillary is often coming in at

+15

to

+25

in the womens' vote, well above Obama's statistic. And yet, in many states, like North Carolina, she is doing better in the men's vote than many thought.
A fourth possible factor, one one one thought of really taking seriously for a Democrat in the last 16 years, is the Rural Vote. Hillary is also experiencing a noticeble uptick in this rubrik, which is important in states like Indiana, Iowa, South Dakota, Wisconsin, Nebraska and Kansas.
If my polling wishes could come true, I would wish for:
-4 solid polls from Indiana from different pollster.
-5 more polls from Missouri from different pollsters.
-update polls from Arkansas, Kansas, Lousiana and Kentucky (with a Gubernatorial race brewing in KY, we are sure to see some more Presidential numbers as well)
-to gauge the extremes : at least one poll from Vermont and Utah.
-and lots of Ohio, Virginia, Florida, North Carolina and Pennsylvania polling!!
---------------------------------------------------------------------
FACIT: right now is a good time to make such an analysis:
-the candidates have all announced, I assume.
-the first GOP debate is about to happen.
-Donald Trump has become a factor to watch over the next months.
Bottom-line: it has gotten closer in some states, like Pennsylvania and Iowa, it is still tight in North Carolina as it has always been, and Ohio is leaning up, but Florida, with it's 29 EV, is not.
No matter how you slice it, in both national, state and specialty polling it's: Advantage Clinton. And it has been this way now for 2.5 years, very, very consistently.
----------------------------------------------------------------------
Appendix:
Update for August, 2015:
Bush: National 60, National 3-way 4, Alaska 6, Arizona 2, Arkansas 3, California 2, Colorado 8, Connecticut 2, Florida 20, Georgia 2, Idaho 1, Illinois 1, Iowa 21, Kansas 6, Kentucky 3, Louisiana 4, Maine 1, Massachusetts 1, Maryland 1, Michigan 7, Minnesota 1, Mississippi 2, Missouri 1, Montana 6, Nevada 2, New Hampshire 14, New Jersey 8, New Mexico 2, New York 3, North Carolina 21, Ohio 10, Oregon 1, Pennsylvania 10, South Carolina 2, Texas 3, Virginia 9, Washington State 2, West Virginia 1, Wisconsin 4, Wyoming 1, specialty (Jewish) 1, specialty (Latino) 6 / Total: 263
Paul: National 51, Alaska 5, Arizona 2, Arkansas 3, California 0, Colorado 10, Connecticut 2, Florida 13, Georgia 2, Idaho 1, Illinois 1, Iowa 20, Kansas 6, Kentucky 8, Louisiana 4, Maine 1, Maryland 1, Massachusetts 1, Michigan 8, Minnesota 1, Mississippi 2, Missouri 1, Montana 5, Nevada 1, New Hampshire 13, New Jersey 7, New Mexico 2, New York 4, North Carolina 21, Ohio 11, Oregon 1, Pennsylvania 11, South Carolina 1, Texas 2, Washington State 1, Virginia 16, Washington State 2, West Virginia 1, Wisconsin 5, Wyoming 1, specialty (Jewish) 0, specialty (Latino) 5 / Total: 253
Christie: National 52, Alaska 6, Arizona 2, Arkansas 3, California 0, Colorado 11, Connecticut 2, Florida 13, Georgia 2, Illinois 1, Idaho 1, Iowa 19, Kansas 4, Kentucky 2, Louisiana 4, Maine 1, Maryland 0, Massachusetts 0, Michigan 9, Minnesota 2, Mississippi 2, Montana 3, Nevada 0, New Hampshire 9, New Jersey 17, New Mexico 1, New York 10, North Carolina 17, Ohio 11, Oregon 1, Pennsylvania 11, South Carolina 1, Texas 4, Virginia 17, Washington State 2, West Virginia 1, Wisconsin 5, Wyoming 1, specialty (Jewish) 0, specialty (Latino) 0 / Total: 241
Cruz:
National
37
, Alaska 1, Arizona
1
, Arkansas 2,
California 1
,
Colorado 7
, Connecticut
2
, Florida
9
, Georgia 1, Idaho 1,
Illinois 1
, Iowa
11
, Kansas 3, Kentucky
3
, Louisiana 2, Maine 1, Maryland 0,
Massachusetts 0
, Michigan
5
, Minnesota 1, Mississippi 2,
Missouri 0
, Montana 2,
Nevada 0
, New Hampshire
7
, New Jersey
1
, New Mexico 1, New York
1
, North Carolina
8
, Ohio
6
, Oregon 1, Pennsylvania
7
,
South Carolina 1
, Texas 3, Virginia
6
,
Washington State 2
, West Virginia 1, Wisconsin
4
,
specialty (Jewish) 0
,
specialty (Latino) 5
/
Total:
146
Rubio: National 40, Alaska 2, Arizona 1, Arkansas 0, California 1, Colorado 4, Connecticut 1, Florida 20, Georgia 1, Idaho 0, Illinois 1, Iowa 11, Kansas 1, Kentucky 3, Louisiana 1, Maine 0, Maryland 0, Massachusetts 0, Michigan 4, Minnesota 1, Missouri 0, Montana 1, Nevada 1, New Hampshire 3, New Jersey 1, New Mexico 0, New York 1, North Carolina 6, Ohio 6, Oregon 0, Pennsylvania 5, South Carolina 0, Texas 1, Virginia 10, Washington State 2, West Virginia 0, Wisconsin 4, Wyoming 1, specialty (Jewish) 1, specialty (Latino) 5 / Total: 137
Huckabee: National 25, Alaska 4, Arizona 2, Arkansas 3, California 0, Colorado 4, Connecticut 1, Florida 7, Georgia 1, Idaho 1, Illinois 1, Iowa 12, Kansas 4, Kentucky 2, Louisiana 3, Maine 0, Maryland 0, Massachusetts 0, Michigan 4, Minnesota 1, Mississippi 1, Missouri 0, Montana 1, Nevada 0, New Hampshire 3, New Jersey 3, New Mexico 1, New York 1, North Carolina 13, Ohio 5, Oregon 1, Pennsylvania 7, South Carolina 1,Texas 1, Virginia 7, Washington State 2, Wisconsin 2 / Wyoming 0, specialty (Jewish) 0, specialty (Latino) 0, Total: 124
Walker
: National 26, Arizona 1,
California 2
, Colorado
4
, Connecticut 1, Florida 4,
Illinois 1
, Iowa
11
, Kentucky 1, Maryland 1, Michigan 2,
Missouri 1
, Montana 1,
Nevada 2
, New Hampshire
8
,
New Jersey 2
, New York 1, North Carolina 7, Ohio 4, Pennsylvania 3,
South Carolina 2
, Virginia
6
,
Washington State 2
, Wisconsin 7,
specialty (Jewish) 0
,
specialty (Latino) 5
/
Total:
105
Ryan:
National 16, Alaska 1, Colorado 2, Florida 6, Georgia 2, Iowa 6, Kansas 1, Louisiana 2, Maryland 1, Michigan 2, Montana 4, New Hampshire 1, New Jersey 1, New York 1, Ohio 4, Pennsylvania 3, Virginia
6
, West Virginia 1, Wisconsin 7, Wyoming 1,
Specialty (Latino) 1
/
Total:
6
8
(announced he is not running)
Carson:
National
13
, Arizona 1, Florida 1,
Illinois 1
, Iowa 3, Michigan 1, New Hampshire 1, North Carolina
6
, Ohio 1,
South Carolina 1
, Virginia 1,
Washington State 1
, Wisconsin 1 / Total:
32
Perry:
National 7, Arizona 1, Florida 1, New Hampshire 1, North Carolina 2, Ohio 1,
South Carolina 1
, Texas 4, Washington State 1, Wisconsin 1
/ Total:
20
Trump:
National
9
,
National 3-way 4
,
Illinois 1
, Kentucky
1
, Michigan
1
,
Nevada 1
, North Carolina
1
, Total:
17
Romney:
National 7, Florida 2, Iowa 1, New Jersey 2, North Carolina 1, Ohio 1, Pennsylvania 2, /
Total:
16
(announced he is not running)
Kasich: National 3, Florida 1, Ohio 9, Pennsylvania 1 / Total: 14
Fiorina:
National
5
,
Illinois 1
, Iowa
2
, Kentucky
1
, Michigan
1
, North Carolina
2
, Virginia
1 / Total:
13
Santorum:
National 2, Pennsylvania 9 /
Total:
11
Palin: National 2, Alaska 6, Georgia 1 / Total: 9
Jindal: National 1, Iowa 1, Louisiana 7 / Total: 9
Generic: National 1, Arkansas 1, North Carolina 1, 1 Latino / Total: 4
--------------------------
Less than 4:
McDonnell, Gingrich, Haley, Pence, Pawlenty, Bachmann, Ayotte, Martinez, Brewer, Sandoval, Pataki, Gilmore, Ayotte, Graham, Rice, Bloomberg